Lifetime Achievement Award
Beef Improvement Federation Honors
Renowned Beef Researcher
COLUMBIA, Mo. (JUNE 28, 2010) — A bright mind and researcher in the genetic improvement of beef cattle was honored by former students, beef industry leaders and colleagues at the 42nd Annual Beef Improvement Federation (BIF) Research Symposium and Meeting June 28. The opening ceremony for the conference was a perfect opportunity to honor Richard "Dick" Quaas of Cornell University with a special Lifetime Achievement Award.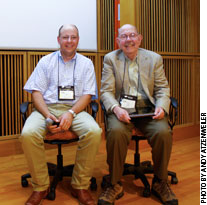 Richard "Dick" Quass receives the 2010 BIF Lifetime Achievement Award
[Click here to download high-res. photo]
During the honoring ceremony, many people who knew Quaas shared stories of their experiences with him, which included anything from his love for corncob pipes, the New York Yankees and ice cream to his scientific contributions to animal science, mixed model methods and the "tough love" he showed to his former students.
The discussion was led by BIF conference co-chairman Bob Weaber of the University of Missouri, who read e-mails and letters from people all over the world who had worked with Quaas. Weaber himself recalled as a student working out problems on the board in Quaas' office, acknowledging he even had a favorite marker in Quass' office to use when mentor asked a question.
Like Weaber, Brent Woodward, now a research scientist for Igenity, said Quaas had an impact on many people from all over the world. "Dick Quaas would ask a probing question on the spot," Woodward said. "We're better off because of those probing questions."
Quaas has been honored in the past for his work in research and in the beef cattle industry, including being inducted as a Golden Book member for the World Simmental Federation. Quaas said BIF has always been his favorite event and that he was honored by this award of lifetime achievement. Even in his scientific mind, he said, he knows the practicality of what he does.
"Those Xs and Ys weren't just Xs and Ys," Quaas said. "They were pounds of meat, yearling weights and ribeyes."
The industry has benefited from his thoughts and contributions that have enabled producers to improve efficient beef cattle production through selection.
###
The Beef Improvement Federation has been a means to standardize programs and methodology and to create greater awareness, acceptance and usage of beef cattle performance concepts for more than 40 years. The 42nd Annual BIF Research Symposium and Meeting, conducted this year in Columbia, Mo., was hosted by the University of Missouri Extension and other cattle producers, organizations and leaders in the state. For more information about BIF and the conference, log on to www.BIFconference.com or www.beefimprovement.org.
Editor's Note: This article is provided as a news release by the Beef Improvement Federation. For more information, contact Katie Allen.
For additional 2010 BIF Award Winners, see the "Awards" page at www.BIFconference.com. API coverage of the 42nd BIF Research Symposium and Annual Meeting is available in the site's "Newsroom," with photo galleries of the tours and meeting located on the "Photos" page.This site contains materials with various copyrights. Please refer to the "Reprint Guidelines" for guidance.