Award Winners
FOR IMMEDIATE RELEASE
June 20, 2014
For more information contact:
Joe Cassady, executive director, Beef Improvement Federation, South Dakota State University; 605-688-5165; www.BIFconference.com; www.beefimprovement.org
For a high-resolution photo of the winner, click here.
John Maday Honored
with BIF Ambassador Award
LINCOLN, Neb. (June 20, 2014) — The Beef Improvement Federation (BIF) honored John Maday, of Drovers/CattleNetwork and Bovine Veterinarian magazine, with the Ambassador Award during the organization's annual meeting and research symposium in Lincoln, Neb., June 18-21, 2014. This award is given annually by BIF to a member of the media for his or her efforts in spreading the news of BIF and its principles to a larger audience.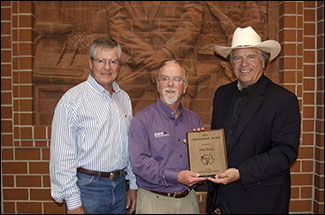 John Maday, Drovers CattleNetwork, was honored with the Beef Improvement Federation Ambassador Award. Maday was recognized during an awards luncheon at the organizations 46th research symposium and annual meeting hosted June 18-20 in Lincoln, Neb. Pictured are (from left) Greg Henderson, editorial director of Beef Today and Cattle-Exchange.com; Maday; and Steve Whitmire, 2013-2014 BIF president.
A native of southern Wisconsin, Maday earned a bachelor's degree in agronomy from the University of Wisconsin-Madison. He continued his education at the University of Florida, earning a master's degree in agricultural extension education. Upon completion of his degrees, Maday worked for six years coordinating in-service training for Florida vocational agriculture teachers. He also spent 18 months in Cameroon teaching at the National College of Agriculture.
In 1993 Maday joined the staff at Drovers/CattleNetwork magazine and quickly became recognized as a talented writer capable of covering complex subjects in all facets of beef production and marketing. He has written hundreds of news stories, management features and opinion columns for America's beef producers.
Specifically, Maday has reported on a wide-range of issues relative to genetic improvement and the profitability of beef cattle. His work examined issues of importance to commercial and purebred breeders such as the use of structured crossbreeding systems, expected progeny differences (EPDs), selection indices and genomics tools. His work extends the reach of BIF's goals and mission to aid in the genetic improvement of beef cattle for both seedstock and commercial producers.
As a testament to his journalistic skills and his prolific production, Vance Publishing named him editor of Bovine Veterinarian magazine in 2013, a role he fills in addition to his duties as managing editor of Drovers/CattleNetwork.
During his tenure at Drovers/CattleNetwork, Maday's contributions helped the publication earn two prestigious Jesse H. Neal awards from the American Business Media. Last year he was honored with the National Institute for Animal Agriculture (NIAA) 2013 Advocacy in Animal Agriculture Award. Over the years his peers have recognized him with numerous writing awards from Livestock Publications Council (LPC) and the American Agricultural Editor's Association (AAEA).
Maday and his wife, Jane, reside in Fort Collins, Colo. They have two children, Ian and Margaret.
###
About BIF:
The Beef Improvement Federation (BIF) is an organization dedicated to coordinating all segments of the beef industry — from researchers and producers to retailers — in an effort to improve the efficiency, profitability and sustainability of beef production. The organization was initiated almost 70 years ago to encourage the use of objective measurements to evaluate beef cattle. Continuing the tradition, BIF is now the clearinghouse for developing standardized programs and methodologies for recording of performance data for all traits, from birth weights to carcass traits. Its three-leaf-clover logo symbolizes the link between industry, extension and research.
About www.BIFconference.com:
The www.BIFconference.com website is an event coverage site compiled by the Angus Journal staff as a service to its subscribers and the beef industry at large. The Angus Journal's coverage of this event is made possible through the collaboration of BIF; host organizations including the University of Nebraska–Lincoln, the U.S. Meat Animal Research Center at Clay Center, and the Nebraska Cattlemen; and LiveAuctions.tv, which provided live-streaming video during the event and video for archival purposes. The Angus Journal encourages reprinting of the articles by those who adhere to the reprint guidelines available on the site.
About Angus Journal:
The Angus Journal is the flagship publication of the American Angus Association and a primary means of communication with its membership. Published 12 times each year, the magazine communicates important information about Association programs and services; reports news from shows, events and sales; and provides production, marketing and management information that seedstock breeders need to be successful. The publication also serves an effective vehicle for producers to use in marketing their herds to other members around the country. Advertisements are offered in a variety of sizes at rates to match most budgets, and a creative staff is available to help design an eye-catching layout.