Award Winners
FOR IMMEDIATE RELEASE
June 19, 2014
For more information contact:
Joe Cassady, executive director, Beef Improvement Federation, South Dakota State University; 605-688-5165; www.BIFconference.com; www.beefimprovement.org
For a high-resolution photo of the winner, click here.
Steve Radakovich Honored
with BIF Pioneer Award
LINCOLN, Neb. (June 19, 2014) — The Beef Improvement Federation (BIF) honored Steve Radakovich with the Pioneer Award during the organization's 46th Annual Meeting & Research Symposium in Lincoln, Neb., June 18-21, 2014. The award recognizes individuals who have made lasting contributions to the improvement of beef cattle, honoring those who have had a major role in acceptance of performance reporting and documentation as the primary means to make genetic change in beef cattle.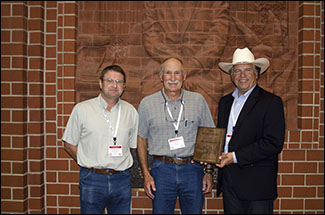 Steve Radakovich (center), Radakovich Cattle Co., Earlham, Iowa, receives a Beef Improvement Federation Pioneer Award from Steve Whitmire (right), 2013-2014 BIF president, and Dorian Garrick, Iowa State University. Radakovich received the honor during an awards luncheon at the organizations 46th research symposium and annual meeting hosted June 18-21 in Lincoln, Neb.
Born and raised in Iowa, he represents the third generation of Earlham, Iowa, Radakoviches. His father raised pigs, but he always preferred beef cattle.
Radakovich received his bachelor's degree at Iowa State University in animal sciences, where he was greatly influenced by Dr. Jim Kiser. He then completed a master's degree at Colorado State University. 
After completing his master's degree, Radakovich returned to Earlham with Penny, his wife. Together they began to raise a family and to establish a bull breeding business, first with Hereford cattle, then later including Angus and various composites. 
In his pursuit of cattle fitness, he experimented with various composite breeds, including those with tropical adaptation like Senepol, and gained a reputation for producing seedstock that could perform well in tough conditions. 
Radakovich was one of the first cattle breeders to use high-density SNP genotyping to confirm his own ancestry and breeding potential. He has collected hair samples on many of his cattle for future use, but because of the current focus of genomic predictions on traits other than fitness, he is yet to be convinced of its utility for improvement of his cattle.
Radakovich's focus on adaptability, system thinking and his ability to communicate led to frequent and ongoing invitations to speak at national and international cattle events, including in five of the six continents where cattle are raised.
The Radakoviches have leased their farm to neighbor Steve Ory, but they maintain a bull breeding partnership.
Radakovich was presented the BIF Pioneer Award at a luncheon Thursday, June 19. Also receiving Pioneer Awards were Gary Bennett of the U.S. Meat Animal Research Center at Clay Center, Neb., and Merlyn Nielsen of the University of Nebraska–Lincoln.
For more information about this year's symposium, including additional award winners and coverage of the meeting and tours, visit www.BIFconference.com. For more information about the BIF organization, visit www.beefimprovement.org.
###
About BIF:
The Beef Improvement Federation (BIF) is an organization dedicated to coordinating all segments of the beef industry — from researchers and producers to retailers — in an effort to improve the efficiency, profitability and sustainability of beef production. The organization was initiated almost 70 years ago to encourage the use of objective measurements to evaluate beef cattle. Continuing the tradition, BIF is now the clearinghouse for developing standardized programs and methodologies for recording of performance data for all traits, from birth weights to carcass traits. Its three-leaf-clover logo symbolizes the link between industry, extension and research.
About www.BIFconference.com:
The www.BIFconference.com website is an event coverage site compiled by the Angus Journal staff as a service to its subscribers and the beef industry at large. The Angus Journal's coverage of this event is made possible through the collaboration of BIF; host organizations including the University of Nebraska–Lincoln, the U.S. Meat Animal Research Center at Clay Center, and the Nebraska Cattlemen; and LiveAuctions.tv, which provided live-streaming video during the event and video for archival purposes. The Angus Journal encourages reprinting of the articles by those who adhere to the reprint guidelines available on the site.
About Angus Journal:
The Angus Journal is the flagship publication of the American Angus Association and a primary means of communication with its membership. Published 12 times each year, the magazine communicates important information about Association programs and services; reports news from shows, events and sales; and provides production, marketing and management information that seedstock breeders need to be successful. The publication also serves an effective vehicle for producers to use in marketing their herds to other members around the country. Advertisements are offered in a variety of sizes at rates to match most budgets, and a creative staff is available to help design an eye-catching layout.