Award Winners
FOR IMMEDIATE RELEASE
June 20, 2014
For more information contact:
Joe Cassady, executive director, Beef Improvement Federation, South Dakota State University; 605-688-5165; www.BIFconference.com; www.beefimprovement.org
For a high-resolution photo of the winner, click here.
Schuler Red Angus Awarded BIF Seedstock Producer of the Year
LINCOLN, Neb. (June 20, 2014) — The Beef Improvement Federation (BIF) awarded Schuler Red Angus the Seedstock Producer of the Year Award during the organization's 46th annual meeting and research symposium in Lincoln, Neb., June 18-21.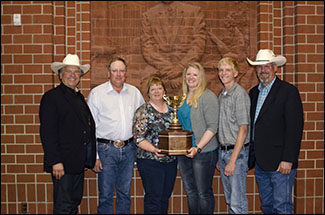 Schuler Red Angus, Bridgeport, Neb., was named the 2014 Beef Improvement Federation Seedstock Producer of the Year during an awards ceremony June 20 at the Cornhusker Marriott Hotel in Lincoln, Neb. Pictured at the awards ceremony are (from left) Steve Whitmire, BIF 2013-2014 president; Butch, Susan, Stephanie and David Schuler, recipients; and Burt Rutherford, BEEF magazine, award sponsor.
Schuler Red Angus is located in the panhandle of western Nebraska on Lawrence Fork Creek. Darrell and Mary Lou Schuler began raising commercial Herefords there in 1959. By the 1970s, they were using Red Angus bulls and discovered that the crossbred calves were superior to the ranch's traditional straightbred cattle. A registered-Red Angus herd was started in 1976 to develop genetics for the ranch's commercial herd and provide seedstock for neighboring ranches.
The seedstock herd expanded in the 1980s and continued to improve through the use of artificial insemination, performance testing and a data-based breeding program utilizing expected progeny differences (EPDs). Customer input and feedback from meat-packers regarding the ranch's finished commercial cattle encouraged the Schulers to begin collecting carcass data in 1991. They later developed structured carcass tests utilizing their own and customer cattle. Today, more than 25% of Red Angus' high-accuracy carcass trait sires have been proven by Schuler Red Angus.
A composite seedstock herd called "Schuler Reds" — which uses Red Angus, Simmental and Gelbvieh genetics — was started in 1992. This gives Schuler Red Angus customers the opportunity to add heterosis and breed complementarity via a simple crossbreeding system.
The current ranching operation encompasses 17,000 acres, including 2,000 acres of private pasture leases and 1,250 acres of irrigated farm ground. Butch and Susan Schuler, with their children Stephanie and David, manage the operation of approximately 1,000 head of spring-calving females. The Schuler's hosted their 32nd production sale this spring, selling 150 registered Red Angus and Schuler Red composite bulls.
For more information about this year's symposium, including additional award winners and coverage of the meeting and tours, visit www.BIFconference.com. For more information about the BIF organization, visit www.beefimprovement.org.
###
About BIF:
The Beef Improvement Federation (BIF) is an organization dedicated to coordinating all segments of the beef industry — from researchers and producers to retailers — in an effort to improve the efficiency, profitability and sustainability of beef production. The organization was initiated almost 70 years ago to encourage the use of objective measurements to evaluate beef cattle. Continuing the tradition, BIF is now the clearinghouse for developing standardized programs and methodologies for recording of performance data for all traits, from birth weights to carcass traits. Its three-leaf-clover logo symbolizes the link between industry, extension and research.
About www.BIFconference.com:
The www.BIFconference.com website is an event coverage site compiled by the Angus Journal staff as a service to its subscribers and the beef industry at large. The Angus Journal's coverage of this event is made possible through the collaboration of BIF; host organizations including the University of Nebraska–Lincoln, the U.S. Meat Animal Research Center at Clay Center, and the Nebraska Cattlemen; and LiveAuctions.tv, which provided live-streaming video during the event and video for archival purposes. The Angus Journal encourages reprinting of the articles by those who adhere to the reprint guidelines available on the site.
About Angus Journal:
The Angus Journal is the flagship publication of the American Angus Association and a primary means of communication with its membership. Published 12 times each year, the magazine communicates important information about Association programs and services; reports news from shows, events and sales; and provides production, marketing and management information that seedstock breeders need to be successful. The publication also serves an effective vehicle for producers to use in marketing their herds to other members around the country. Advertisements are offered in a variety of sizes at rates to match most budgets, and a creative staff is available to help design an eye-catching layout.