Award Winners
FOR IMMEDIATE RELEASE
June 20, 2014
For more information contact:
Joe Cassady, executive director, Beef Improvement Federation, South Dakota State University; 605-688-5165; www.BIFconference.com; www.beefimprovement.org
For a high-resolution photo of the winner, click here.
Maci Lienemann Awarded BIF Roy A. Wallace Memorial Scholarship
LINCOLN, Neb. (June 20, 2014) — The Beef Improvement Federation (BIF) awarded Maci Lienemann with a Roy A. Wallace Memorial Scholarship during the organization's 46th annual meeting and research symposium in Lincoln, Neb., June 18-21. The award recognizes two students who have made a significant commitment and passion for the industry.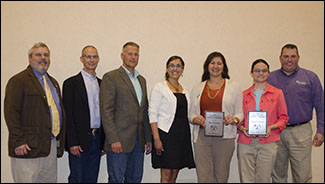 The Roy A. Wallace Memorial scholarship was awarded to Heather Bradford, Kansas State University, and Maci Lienemann, University of Nebraska. Pictured are (from left) Joe Cassady, executive director of the Beef Improvement Federation; Brian House, Select Sires; Trevor, Torri and Maci Lienemann; Bradford; and Aaron Arnett, Select Sires.
Hailing from Princeton, Neb., Lienemann is a junior at the University of Nebraska–Lincoln (UNL) majoring in animal science with a focus in biology. She stays busy as an Animal Science Student Ambassador and the 2013-2014 American Angus Association Ambassador, all while maintaining a 4.0 grade point average. She served as the 2012-2013 Nebraska FFA state vice president her freshman year at UNL.
She has an active role on her family's first-generation registered-Angus operation, Lienemann Cattle Company, and owns her own personal herd of 20 registered-Angus cattle. In addition, she has worked as the assistant marketing and sales coordinator for Lienemann Management Products (LMP).
Lienemann has worked as a part-time lab technician for GeneSeek while in school. This summer she is a research intern in the breeding, genetics and animal health division of the U.S. Meat Animal Research Center (USMARC) at Clay Center, Neb.
Lienemann has aspirations to obtain an advanced degree in animal science, specifically focused in livestock genetics.
The Roy A. Wallace Beef Improvement Federation Memorial Fund was established to honor the life and career of Roy Wallace. Wallace, who worked for Select Sires for 40 years, served as vice president of beef programs and devoted his life to the improvement of beef cattle. He became involved with BIF in its infancy and attended each of the first 40 BIF conventions. He loved what BIF stood for — bringing together purebred and commercial cattle breeders, academia and breed associations, all committed to improving beef cattle.
Wallace was honored with both the BIF Pioneer Award and BIF Continuing Service Award, and he co-authored the BIF 25-year history, Ideas into Action. This scholarship was established to encourage young men and women interested in beef improvement to pursue those interests as he did, with dedication and passion. Two $1,250 scholarships are offered, one to an undergraduate and the other to a graduate student.
For more information about this year's symposium, including additional award winners and coverage of meeting and tours, visit www.BIFconference.com. For more information about BIF, visit www.beefimprovement.org.
###
About BIF:
The Beef Improvement Federation (BIF) is an organization dedicated to coordinating all segments of the beef industry — from researchers and producers to retailers — in an effort to improve the efficiency, profitability and sustainability of beef production. The organization was initiated almost 70 years ago to encourage the use of objective measurements to evaluate beef cattle. Continuing the tradition, BIF is now the clearinghouse for developing standardized programs and methodologies for recording of performance data for all traits, from birth weights to carcass traits. Its three-leaf-clover logo symbolizes the link between industry, extension and research.
About www.BIFconference.com:
The www.BIFconference.com website is an event coverage site compiled by the Angus Journal staff as a service to its subscribers and the beef industry at large. The Angus Journal's coverage of this event is made possible through the collaboration of BIF; host organizations including the University of Nebraska–Lincoln, the U.S. Meat Animal Research Center at Clay Center, and the Nebraska Cattlemen; and LiveAuctions.tv, which provided live-streaming video during the event and video for archival purposes. The Angus Journal encourages reprinting of the articles by those who adhere to the reprint guidelines available on the site.
About Angus Journal:
The Angus Journal is the flagship publication of the American Angus Association and a primary means of communication with its membership. Published 12 times each year, the magazine communicates important information about Association programs and services; reports news from shows, events and sales; and provides production, marketing and management information that seedstock breeders need to be successful. The publication also serves an effective vehicle for producers to use in marketing their herds to other members around the country. Advertisements are offered in a variety of sizes at rates to match most budgets, and a creative staff is available to help design an eye-catching layout.